At Sahara Speech And Hearing Clinic. We provides our patients support and services to help the best advice about your hearing health. We have a team of certified Audiologist. Who are expert to better treatment for your hearing health,opening without any charge to pay you hearing test. You will get the complete treatment your hearing health. We also provide proper guideline for your hearing protection.
There are two different type of categorization available when you visit our clinic
Hearing Screening.
Full Hearing Health Check.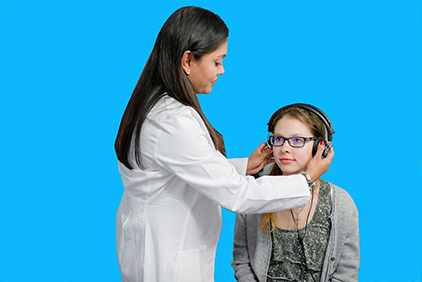 Hearing Screening
Audiologist recommended this test for newborn babies. The screening test is very simple and painless. Even if, babies are often as sleep while being this test. In short, time to complete the test. And get the result only a few minutes. This test conducts easily newborn babies. It is the part of the very care of new born babies because to check the quality of hearing. If the baby doesn't pass this test. So it's very important to make an appointment for a full hearing test no later than three months of age.
Full Hearing Health Check
Many children do not pass the Hearing Screening test. In this case, Full Hearing Health check-up is necessary to know about your quality of hearing.In this test, hearing professionals ask some question about your hearing history. And deeply checked your hearing Health. And diagnostics include the following check-ups such that Fluid accumulation in the outer and middle ear, Excessive deposition of ear wax, Perforation on ear drums, Abnormalities in the ear canal, Scar tissue defects on the ar drum, infection.